1st Michigan Tea Party Alliance
"The Grassroots of the Great Lakes!"
Your Gateway to active Tea Party groups in Michigan!
Current U.S. National Debt
Recent Stories:
New Jersey Gov. Chris Christie to campaign for Snyder in Detroit
Big day for Detroit: $32 million for buses, federal aid for flooding and elected officials regain authority
Detroit emergency manager restores governing powers to elected officials
LGBT hate crime law proposed in Michigan House
American Citizen Beaten to Death by Cartel Members Near Border...

At least 40,000 aliens vanish into USA...
CHART: 1 in 4 Americans 25-54 Not Working...
---
NEW ELECTION TOOL for Liberty, Patriot, and Conservatives!!
Voter Information Network SUPERPAC
Great to see these signs in SW Michigan!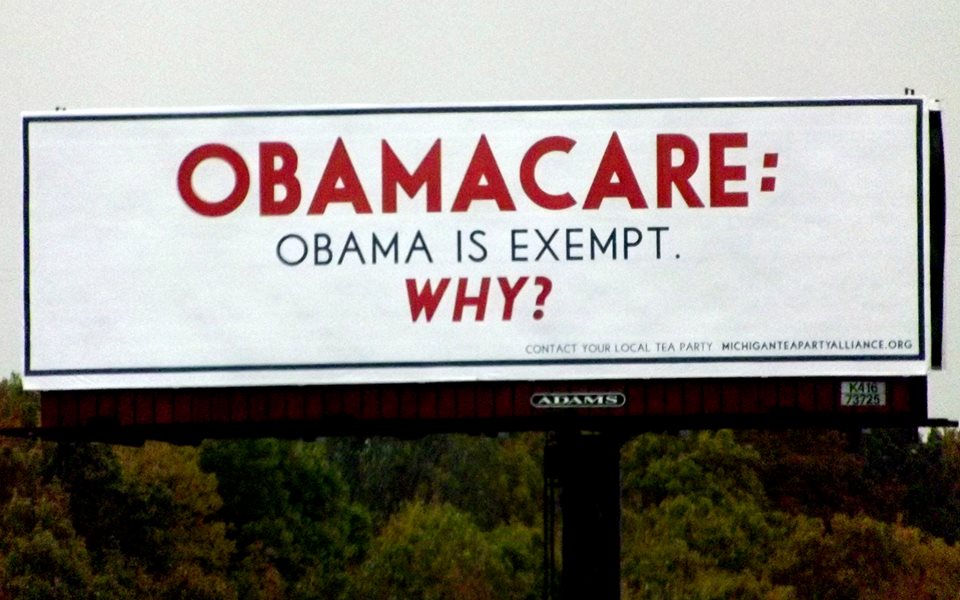 How Will Your State Fare in the Obamacare Exchanges?
Source Report: How Will You Fare in the Obamacare Exchanges?
________________________________________________________________
TEA Party Poll on
Debt Ceiling
The 1st Michigan TEA Party Alliance has put into place a facility to allow us to poll our members on various items of interest from time to time and then publish the results. The various TEA Parties in the state are all very independent and made up of independently minded conservatives and so it was of interest to be able to sample their opinions from time to time.
It is noted that these are just 'straw polls' as the poll is broadcast via email lists of members to all members. People are free to answer the poll or not. Thus in all likelihood the people who have strong opinions will self select and respond. It is not a scientific sample poll.
Many of the TEA Party organizations around the state seek to work in partnership with their federal, state and local representatives. That requires methods of communication to these representatives that can convey an overall census of the TEA Party voters' opinions on important issues. Using polls is only one aspect of that set of communication channels.
The attached poll and results are the result of a desire to communicate the overall opinion of the TEA Party members in Michigan on whether to raise the federal Debt Limit, and if so, what safe guards would be required. We were looking for an overall consensus and the result of 88% opposed to raising the limit seems to be a solid consensus. If it were raised, 46% of those who had an opinion desired a balanced budget amendment to the Constitution. Note that the second question in the survey was not required and the number of votes is not the same as the survey total of 467.
Here is the pdf is the questionnaire; Here is the summary of responses. The attached excel file is the raw data that includes remarks for use by the representatives as insight into what the TEA Party members are thinking.
__________________________________________________________________________________
NEW EDUCATIONAL PAGE!
Patriot Parent Educational Toolbox
We have a new Patriot Parent Educational Toolbox page. Find out vital information about your local school district. Things like average salaries, student performance, union bargaining contracts and much more. Don't be misinformed! Get the facts for your district and tell others. It is up to us to keep our fellow citizens informed!
Michigan Tea Party Alliance Web site Guiding Principle
We are tea parties from throughout the state of Michigan who believe we were given an awesome gift of a republic based on a set of inspired documents called the Declaration of Independence, the US Constitution and the Bill of Rights. In these document are three basic principles we espouse. They are:
· Limited government
· Fiscal responsibility
· Free markets
These values derive from our shared heritage and a belief in a free person who exercises personal responsibility.

A) Limited Government
1) Strengthen state sovereignty
2) Make local and state governments stronger and more independent from national government
3) Stop legislation which hinders personal liability: property rights, moral legislation, free speech, etc. and most legislation which removes personal choice from citizens who have unalienable rights
4) Reform tax code (with focus on lowering tax burden for all citizens)

B) Fiscal Responsibility
1) Reduce the size of all government departments and bureaucracies at every level
2) Reduce and limit grants and foreign aid
3) Common sense approach to balancing the budget, no new debt and eventually paying off the debt

C) Free Markets
1) Limit regulation of any sector of business or industry
2) Reform subsidies and taxation
3) Eliminate government ownership in any private company or industry